This tool is designed to do 2 things: • Shatter tempered glass – like glass found in side windows of most cars & trucks and rear windows of most cars. • Cut seat belts Suggested places: • Ignition key ring • Attached to the gearshift with a hair tie. • Ashtray – depending on the design. • Turn signal or wiper levers with a hair tie. Radio, heater, wiper, and light knobs in older vehicles may work well too. • The glove box, an open tray, cup holder or door pocket are NOT good choices How to use • Window punch Press in corner or edge of window (the bottom corners work best), when you hear a click, the glass shatters in to small pebble size pieces. o Cautions: ~ Close eyes when pushing on the glass and if possible, place an object like a coat, blanket or sheet between you and the glass to deflect dust to pebble sized pieces of glass. ~ Use anything but bare hands to remove glass. If you can't or forget, adhesive tape applied to the injured area then pulled off works well to remove glass shards. ~ This will NOT work on laminated glass, like windshields or pick up truck rear windows or some high-end Mercedes Benz side windows. ~ If the windows are below water level expect an implosion, as water comes in to fill the air space when the glass is broken. ~ Breaking the glass in a vehicle caught in a high water with a "pillowing" wave on the upstream side glass (usually the wind shield), theoretically could cause the windshield to collapse. • Seatbelts ~ If the vehicle is upright, cut as close to the buckle as possible. (If you can reach the buckle release, use it.) ~ If the vehicle is on its side or roof, cut the belt at the shoulder anchor, holding on the belt to allow a controlled lower of the occupant. ~ The cutter is more effective when the belt is under tension than if it is lax. ~ Avoid using the cutter for routine cutting, to avoid dulling the blade.
(25.100.05)
| | |
| --- | --- |
| SKU | 25.100.05 |
| Brand | ResQMe |
Be The First To Review This Product!
Help other Combined Safety Solutions users shop smarter by writing reviews for products you have purchased.
Others Also Bought
From $26.50
or 4 payments of $6.62 with

Info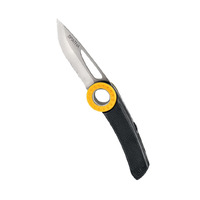 $61.95
or 4 payments of $15.49 with

Info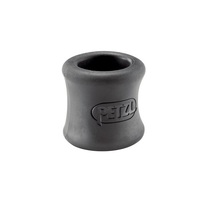 PETZL TANGA Carabiner Positioning Ring | PACK OF 10
$35.95
or 4 payments of $8.99 with

Info
More From This Category