Description This general purpose absorbent boom absorbs all liquids including coolant, solvent, degreaser, paint, blood, mild acids and bases, oil, fuel, diesel, petrol and other hydrocarbons. General purpose absorbents are also known as universal or all-liquid absorbents. Colour-coded grey for easy identification, these general purpose, all-liquid absorbents are ideal for coolants, degreasers, paint, blood, bodily fluids, oils and fuels as well as mild acids, bases and water-based chemicals. Highly flexible, the general purpose absorbent boom can be stuffed into drains, moulded around machinery, pushed under pallets or used to block and divert a spill from entering waterways and drains. Features ~ Great for industrial sites and factories, mine site and maintenance workshops, factory and warehouse floors, panel and paint shops, fuel handling facilities, oil storage depots, vehicle repair shops and transport facilities. ~ Ideal for preventing spills from escaping by forming an absorbent barrier around drums, forklifts, plant and machinery. ~ Ideal for storm-water drain protection. ~ Tough, durable, non-allergenic, non-hazardous booms with no dust. ~ Fast to absorb spilled liquids which in turn delivers improved safety and productivity in the workplace. ~ Simple and easy to use without the need for specialised PPE. Our general purpose absorbent booms are made from surface-modified polypropylene which has a high absorbent capacity. They are able to absorb up to 20 times their own weight in liquid by encapsulating the liquid within the polypropylene's fine fibres. High absorbency to weight ratio equals lower transport and disposal costs.
(SCM24075)
Be The First To Review This Product!
Help other Combined Safety Solutions users shop smarter by writing reviews for products you have purchased.
Others Also Bought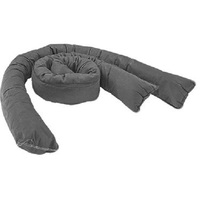 General Purpose Spill Absorbent Boom Sock 1.2m x 7.5cm (8L Capacity)
$14.95
or 4 payments of $3.74 with

Info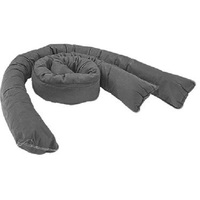 General Purpose Spill Absorbent Boom Sock 1.2m x 7.5cm (8L Capacity) | CARTON OF 24
$324.00
or 4 payments of $81.00 with

Info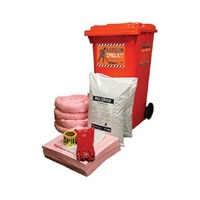 SPILL CREW Hazchem Spill Kit 240L Wheelie Bin (150L Capacity)
$599.00
or 4 payments of $149.75 with

Info
More From This Category